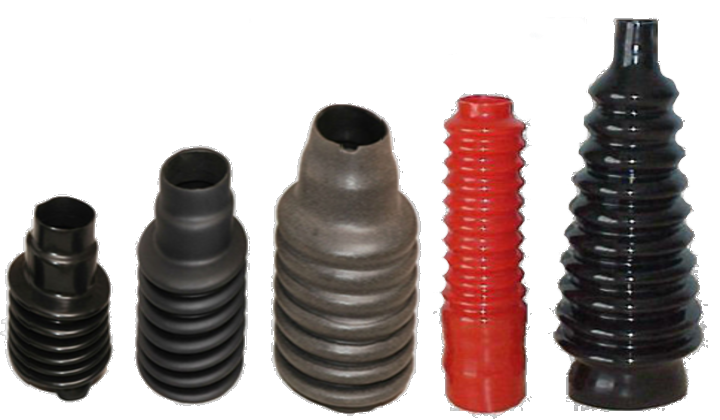 The Flexible Bellows supplied by us are designed as per industry standards and bears excellent compression and expansion capabilities. Available in customized form these are soft, flexible with glossy finish and are widely used in automobile and electrical industries.
Application of Flexible Bellows
* Automobile industry: Protects gear rod in automobiles from dirt and dust.

* Electrical industry: For insulation and protection against corrosion.
Product Showcase
Technical Specifications



Properties Category


Test Property


Standard Test Method
Standard Grades of Plastisol

---

NBR,BPLY,BPLR, BPLB

---

Specified Values
*Note : All the above tests are conducted as per testing plans - ref docs QA/QIP 02/8.2 REV NO 1 and QA/QIP 03/7.2 Rev No.00 at an accredited laboratory/ inhouse lab facility
Electrical Properties
Dielectric Strength
ASTM D149/IEC 60243
3~7kV/mm
Volume Resistivity
ASTM D257
1X109~1X1010Ohm
Mechanical Properties
Tensile Strength
ASTM D638/JIS K6723
2.94~5.88MPa
Elongation
ASTM D638/JIS K6723
350-480%
Hardness
ASTM D2240
45-55 Shore A
Flammability
UL-94 v-0
Self Extinguishes With in 20 Seconds
Tear Strength
ASTM D 624
>20N/mm
Thermal Properties
Thermal Stability at 900C/2 hours
VD001
No Cracks/blisters/ bubbles on surface
Retention of Tensile Strength after thermal ageing at 1200C/120 hours
ASTM D638/JIS K6723
>90%
Retention of Elongation after thermal ageing at 1200C/120 hours
ASTM D638/JIS K6723
>40%
Chemical Properties
Retention of Tensile Strength After Oil ageing at 700C/4 hours
ASTM D638/JIS K6723
>80%
Retention of Elongation After Oil ageing at 700C/4 hours
ASTM D638/JIS K6723
>50%
RoHS
Cd,Pb,Hg,Cr6+,PBBs,PBDEs
IEC 62321:2008
Not Detected
Colour
-- --
-- --
Black,Red,Yellow