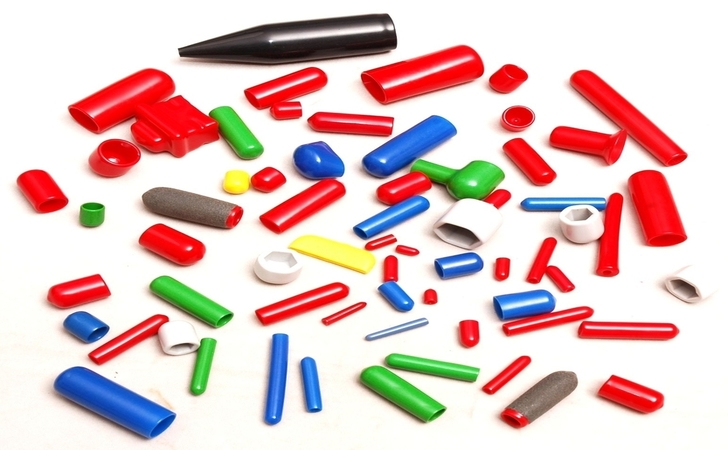 Vindip offers vinyl caps in countless shapes & sizes by using cutting edge dip molding technology with high end infrastructure for design, development and mass production. These caps are made in plastisol and are Glossy, attractive, flexible and unbreakable in nature. Standard sizes are readily available and also can be custom made as per the customer requirement. Vindip offers numerous plastisol formulations to suit wide range of custom options like color, texture, thermal, chemical and electrical properties…
Application of vinyl caps
* Masking agents during painting, plating and surface finishing.

* To cover sharp edges of surgical and stationary articles.

* To shield expensive tool tips from damage.

* Bed frames and exercise equipment.

* Rods, pipe's and bolt end caps.

* Dust and moisture barriers.

* Spark plug tip protectors.

* Can act as Tool grips.

* Electronic gadgets.

* Cable accessories.

* Thread protectors.

* Tube ends caps.

* Flange covers.
Product Showcase
Technical Specifications



Properties Category


Test Property


Standard Test Method
Standard Grades of Plastisol

---

EGR,GPR,GPBL,VDSB, HGBL,HGR,GPRB,GPYL, GPOR,GPWG,HGRY,S.GRAY,SPRFM

---

Specified Values
*Note : All the above tests are conducted as per testing plans - ref docs QA/QIP 02/8.2 REV NO 1 and QA/QIP 03/7.2 Rev No.00 at an accredited laboratory/ inhouse lab facility
Electrical Properties
Dielectric Strength
ASTM D149/IEC 60243
4~10kV/mm
Volume Resistivity
ASTM D257
1X109~1X1011Ohm
Mechanical Properties
Tensile Strength
ASTM D638/JIS K6723
6.3~9.32MPa
Elongation
ASTM D638/JIS K6723
300-520%
Hardness
ASTM D2240
50-80 Shore A
Flammability
UL-94 v-0
Self Extinguishes With in 15 Seconds
Tear Strength
ASTM D 624
>20N/mm
Thermal Properties
Thermal Stability at 900C/2 hours
VD001
No Cracks/blisters/ bubbles on surface
Freezing
(-)400C/30 min
No Cracks/blisters/ bubbles on surface
Retention of Tensile Strength after thermal ageing at 1200C/120 hours
ASTM D638/JIS K6723
>90%
Retention of Elongation after thermal ageing at 1200C/120 hours
ASTM D638/JIS K6723
>40%
Chemical Properties
Retention of Tensile Strength After Oil ageing at 700C/4 hours
ASTM D638/JIS K6723
>80%
Retention of Elongation After Oil ageing at 700C/4 hours
ASTM D638/JIS K6723
>50%
RoHS
Cd,Pb,Hg,Cr6+,PBBs,PBDEs
IEC 62321:2008
Not Detected
Colour
-- --
-- --
Black, Gray, Orange, Red, Green, Reynold Blue, Yellow