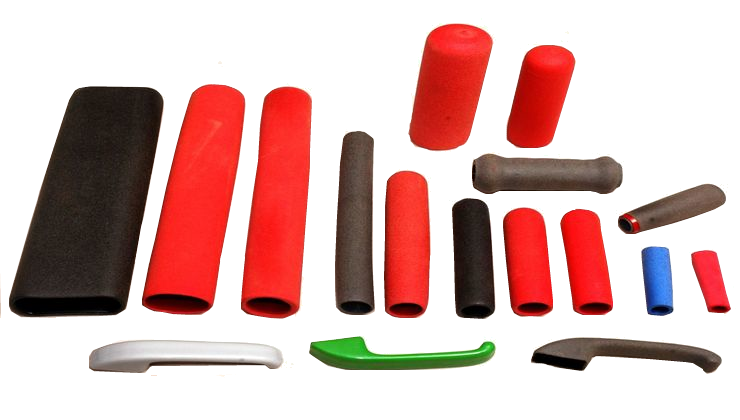 We manufacture and supply a rich range of Handle Grips, which are used for gripping of different handles. These products are available in a variety of shapes, sizes, designs, colors, finish and we also offer these products as per the client's given information. Our products are widely known for their compact designs and we offer these products with effective performance. These products are also helpful in giving cushioning effects as well as are available in varied specifications.
Features:
* provides snug fit.

* Quick & easy installation.

* Resistant to weather changes .

* Brand promotion through logo/company name printing.

*Multi colour options available through dual dipping technology .
APPLICATIONS:
* Tool handle grips.

* Gym grips.

* Surgical equipment grips.

* Two-wheeler handle grips.

*Machine handle bar grips .
Product Showcase
Technical Specifications



Properties Category


Test Property


Standard Test Method
Standard Grades of Plastisol

---

VDSB,GPOR,EGR, GRYFM,SPRFM, BLFM,GPOR,Gray, GPBL

---

Specified Values
*Note : All the above tests are conducted as per testing plans - ref docs QA/QIP 02/8.2 REV NO 1 and QA/QIP 03/7.2 Rev No.00 at an accredited laboratory/ inhouse lab facility
Electrical Properties
Dielectric Strength
ASTM D149/IEC 60243
4~10kV/mm
Volume Resistivity
ASTM D257
1X109~1X1010Ohm
Mechanical Properties
Tensile Strength
ASTM D638/JIS K6723
6.3~7.85MPa
Elongation
ASTM D638/JIS K6723
300-520%
Hardness
ASTM D2240
50~70 Shore A
Flammability
UL-94 v-0
Self Extinguishes With in 15 Seconds
Tear Strength
ASTM D 624
>20N/mm
Thermal Properties
Thermal Stability at 900C/2 hours
VD001
No Cracks/blisters/ bubbles on surface
Retention of Tensile Strength after thermal ageing at 1200C/120 hours
ASTM D638/JIS K6723
>90%
Retention of Elongation after thermal ageing at 1200C/120 hours
ASTM D638/JIS K6723
>40%
Chemical Properties
Retention of Tensile Strength After Oil ageingat 700C/4 hours
ASTM D638/JIS K6723
>80%
Retention of Elongation after Oil ageing at 700C/4 hours
ASTM D638/JIS K6723
>50%
RoHS
Cd,Pb,Hg,Cr6+,PBBs,PBDEs
IEC 62321:2008
Not Detected
Colour
-- --
-- --
Black,Gray,Orange, Yellow