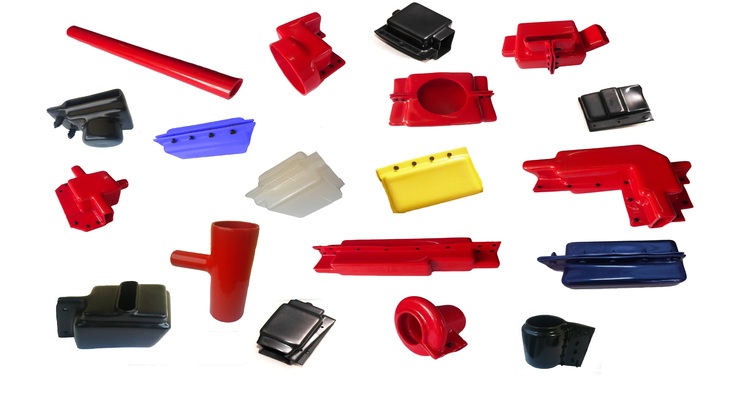 Busbar Shrouds/Boots are protective flexible PVC covers that will aid in insulating switchgear connections, busbars, and all types of electrical terminations up to 36 kv. The shrouds are made from polyvinyl chloride/plastisol material and we have customized proprietary formulations to suit both low & high voltage applications. These shrouds are inter- nationally acclaimed and are being made mandatory across the switchgear industry.
Salient Features of shrouds
* Flame retardant UL94/VO.

* Easily mountable & Re-usable.

* Wide working temperature range.

* Standard models and customized designs.

* Provides significant reduction in air clearances.

* High dielectric strength and good ageing properties.

* Cost effective solution to time consuming insulation tape.

* Reduces maintenance cost with less distribution interruption.

* Available in popular colors like red ,black , yellow, blue and transparent.

* Ensures electrical safety and helps prevent voltage related injuries during maintenance.
These Boots/shrouds are manufactured through dip moulding process under stringent ISO quality standards. The raw materials used in the process are in compliance to RoHS standards. We're a trusted supplier of these boots to both domestic and global OEM switchgear manufacturers We have a wide variety of boots to choose from or we can also provide tailor made solutions as per the customer requirement.
Product Showcase
Technical Specifications



Properties Category


Test Property


Standard Test Method
Standard Grades of Plastisol

---

VDSR,VDSR1,VDSB

---

Specified Values
*Note : All the above tests are conducted as per testing plans - ref docs QA/QIP 02/8.2 REV NO 1 and QA/QIP 03/7.2 Rev No.00 at an accredited laboratory/ inhouse lab facility
Electrical Properties
Dielectric Strength
ASTM D149/IEC 60243
5~15 kV/mm
Volume Resistivity
ASTM D257
1X109~1X1013 ohm
Comparative tracking Strength
IEC 60112
>600 V
A.C Voltage with stand (Across the thickness shroud in oil)
Phase to Earth 36kV/1 min
Passed
Mechanical Properties
Tensile Strength
ASTM D638/JIS K6723
6.3 ~11.8MPa
Elongation
ASTM D638/JIS K6723
300~500%
Hardness
ASTM D2240
60-85 Shore A
Flammability
UL-94 v-0
Self Extinguishes With in 15 Seconds
Tear Strength
ASTM D 624
>20N/mm
Thermal Properties
Thermal Stability at 900C/2 hours
VD001
No Cracks/blisters/ bubbles on surface
Freezing
(-)400C/30 min
No Cracks/blisters/ bubbles on surface
Retention of Tensile Strength after thermal ageing at 1200C/120 hours
ASTM D638/JIS K6723
>90%
Retention of Elongation after thermal ageing at 1200C/120 hours
ASTM D638/JIS K6723
>40%
Chemical Properties
Water Absorption
<0.7%
ASTM D570
Retention of Tensile Strength After Oil ageing at 700C/4 hours
ASTM D638/JIS K6723
>80%
Retention of Elongation after Oil ageing at 700C/4 hours
ASTM D638/JIS K6723
>50%
RoHS
Cd,Pb,Hg,Cr6+,PBBs,PBDEs
IEC 62321:2008
Not Detected
Colour
-- --
-- --
Black,Red